60+ Resume Ideas That Have Worked for 2000 Clients
Referral fees may be earned for purchases made using links on this site. To learn more, see my
disclosure
.
---
These resume ideas, tips and resources show you exactly how to write a professional document that shows you at your best and gets employers interested.
The tips you'll find on this page are real-world tested techniques that have helped approximately 2000 job seekers land jobs, and they can help you, too.

There's an enormous amount of information on this page.

If you have time and want a thorough understanding of the topic, read through all of the resume ideas on the page and click on the links to more detailed information about each topic.
You will become a resume expert!
If you're in a hurry and just want some specific information, use the links below to navigate this page and quickly jump to the information you need.
I earn a commission for purchases made through links on this page.

What You'll Find On This Page

Combination
Chronological
Functional
Creative
Scannable / Applicant Tracking System Optimized
Resumes for Applicant Tracking Systems (ATS):
What is an ATS Optimized Resume?
How to Format and Save Your Resume for Applicant Tracking Systems
Effective Keywords for Your ATS Optimized Resume
Sample ATS Optimized Resumes
Resume Overviews
Profiles and Objectives
Volunteer Work
Impactful Words and Phrases for Your Resume
Resume Ideas for Specific Situations:
Resume Ideas for Career Change
Student Resumes
Technical Resume Writing
Printable Blank Resume Form
Blank Resume Writing Form: Here's the resume writing form I've used to help almost 2000 job seekers write resumes. It's the best way I know of to get your information and thinking organized when you need to write a resume.
Resume Writing Guide
My book, The Resume Writing Guide, is the only book I know of that breaks down the process of creating a resume and takes you from blank page to winning resume one small, manageable step at a time.
It is the next best thing to having an experienced professional resume writer by your side.

Resume Styles & Formatting
There are three commonly used resume styles or formats: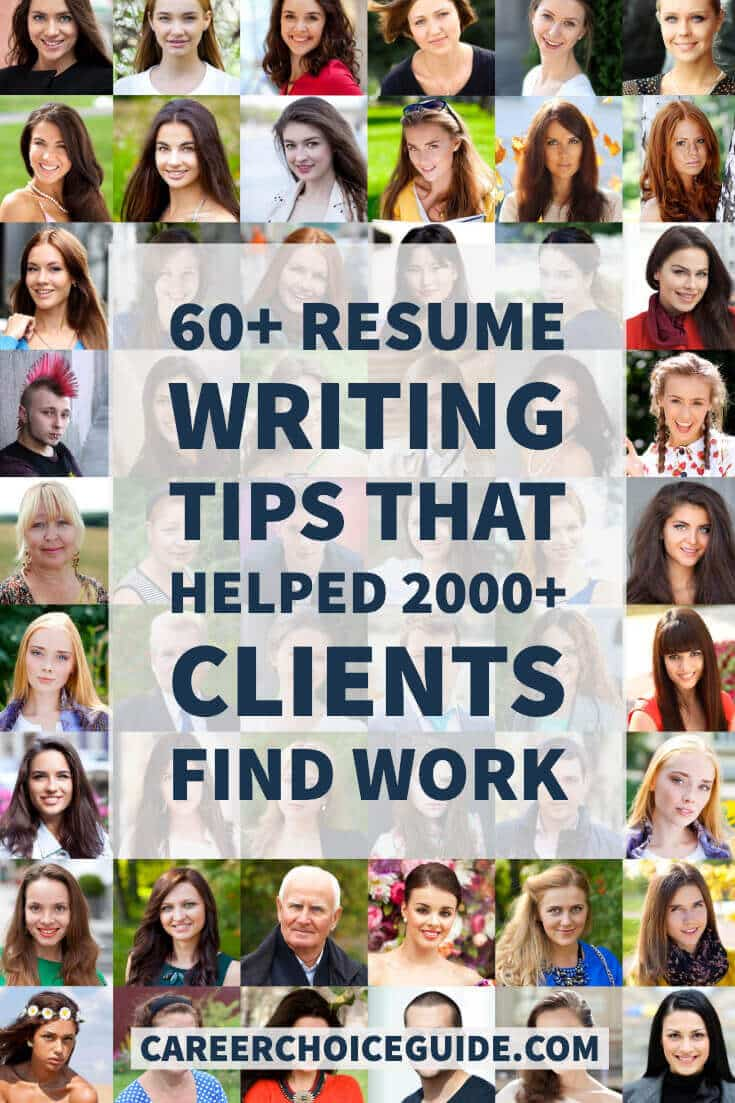 Chronological
Combination
Functional
Each of these three formats have different strengths and weaknesses. The best resume format to use will depend on your professional experience and education and how those qualifications fit with the job you are seeking.
Chronological Resume Format
Highlights a strong work history, but it can be difficult to highlight your skills when you use this format
Functional Resume Format
Highlights skills without showing any work history, but it is not trusted by many employers
Combination Resume Format
Highlights both skills and work experience and provides a lot of flexibility to organize your information in a way that shows your skills and experience in the best possible way
Two More Resume Styles You Should Know About
Creative Resume Design
The fourth resume style we'll explore are creative resume designs. I'm not at all a fan of creative resume templates. They are full of problems, as I'll explain below.
However, creative resumes are popping up everywhere online, so it's important to understand why you see them everywhere on the internet, why they are problematic, and what resume designs you can choose instead.
Scannable Resumes / Applicant Tracking System Optimized Resumes
A final resume format, the scannable, or applicant tracking system (ATS) optimized resume, will be read by a computer as opposed to a human. A scannable resume is designed first and foremost with the resume screening software in mind.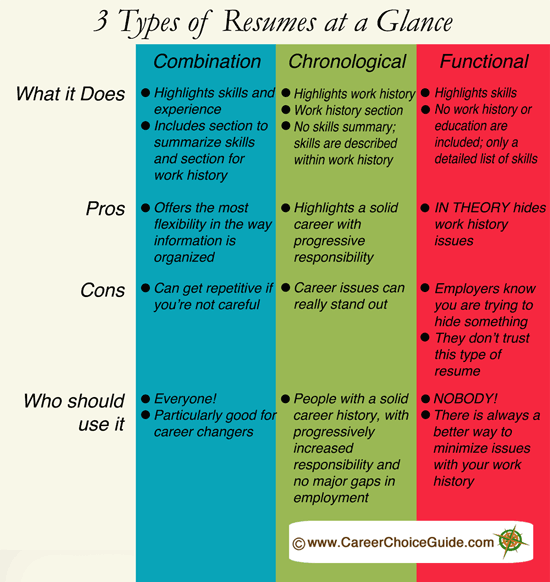 Overview of Chronological, Combination, Functional, and Creative Resumes

The Most Popular Resume Formats: An outline of the three commonly used formats. Learn the basic characteristics of chronological, combination and functional resumes. Plus, here's a little more general information about the three most commonly used styles and when to use each one.
Choose the Best Resume Format for You: Each resume format has its own strengths and weaknesses. Discover which style will show you at your very best depending upon your own unique work history, and learn which popular format you should never use.
Detailed Information About Chronological, Combination, Functional, and Creative Resume Formats
Combination Resumes
Combination resumes are the most versatile of all resume formats. They create a good balance between highlighting your relevant experience along with your most marketable skills.
This style works for most people most of the time. It provides the flexibility you need to highlight your most impressive achievements while minimizing any less than ideal aspects of your work history.

What is a Combination Resume?: An in-depth description of the combination resume style including key features, strengths and weaknesses, and who should use this format.
Combination Resume Formatting Guidelines: Guidelines for formatting a combination resume. If you want to create this type of resume, this formatting guide will show you how.
Sample Combination Resume Format: How a combination resume will typically look once it is correctly formatted.
Sample Combination Resume: Most of the sample resumes on this site use the combination format because, in my opinion, it's the best format for most people most of the time. The link above shows you an example of a standard combination style resume.
If you scroll down to the Sample Resumes section near the bottom of this page, you'll find links to more example resumes that show variations on the combination resume format.
Chronological Resumes
The chronological resume format highlights your work experience, above everything else. It's a good option for people who have a solid career history and want to continue to do work similar to their most recent jobs.
Chronological resumes generally are not the best option for new graduates, career changers, people with gaps in their work history, or people who have held a lot of jobs in a short period of time. Those job seekers usually do better using a combination resume format.

What is a Chronological Resume?: An in-depth look at the chronological resume style including key features, strengths and weaknesses, and who should use this format.
Chronological Resume Format: Guidelines for formatting a chronological resume. If you want to write a chronological resume, this formatting guideline will show you how to organize your work history using this format.
Sample Chronological Resume: This sample chronological resume will show you how a well-formatted, well-written chronological resume should look.
Functional Resumes
Before you continue reading about functional resumes, please be aware: I never recommend using a functional resume.
Employers do not trust this format because it is missing crucial information that most employers want to see. They often feel you are purposely hiding something when you use a functional style resume.
I'm only writing about the functional resume format here because it is a style that a lot of job seekers want to know about. I'm hoping that by describing the functional style and all of its weaknesses, I can steer you towards a more effective format (i.e. the combination style) which allows you to minimize weaknesses in your work history without raising red flags to employers.

What is a Functional Resume?: An in-depth description of the functional resume style including key characteristics, strengths and weaknesses, why using this format is a bad idea, and what you should do instead of using a functional resume.
Functional Resume Format: Guidelines for formatting a functional resume. If you want to write a functional resume, honestly, I believe you'd be better served using a combination resume format. However, if you decide you want to try a functional resume, this formatting guideline will show you how to organize your experience and skills using that style.
Sample Functional Resume: This sample functional resume shows you how your skills and experience will look laid out in a functional resume format. In case you're not already completely tired of me saying this - please seriously consider choosing a combination resume style instead of using a functional format.
Creative Resume Designs
Creative resume designs have popped up everywhere online. You don't have to look far on the internet to discover trendy, two column resume formats full of color, images and icons, charts, and fancy fonts. 
Do you know where you won't find creative resume templates?
You won't find creative resume designs promoted in the offices of professional career advisors. Professional career advisors who have extensive resume writing experience, are aware of recruiting trends and employer preferences, and are actually accountable for their clients' job search outcomes don't recommend using this resume style.
The articles below explain why creative resumes can ruin your job search efforts and what to do instead of using a creative resume template.
Creative Resumes Might Be Keeping You Out of Work: Creative resumes do look stylish, and they certainly stand out in a pile of traditional resumes, but that doesn't mean they are effective. Here's why creative resumes cause you to stand out for the wrong reasons and can thwart your job search efforts.
Is Creative Resume Design Ruining Your Job Search?: Compare the work history of the same fictional job seeker, first arranged in a traditional resume format, and then arranged in two typical creative resume designs. See why creative resume templates force you to write an inferior resume that fails to show you at your very best.
Resumes for Applicant Tracking Systems (ATS)
Electronic, or scannable resumes are specially formatted to be read by computer software commonly known as applicant tracking systems. You may also hear people refer to them using the terms ASCII, text, or plain text resumes.
A human will eventually read your scannable resume but only if it is formatted and written correctly to get through the initial electronic scan.
This resume style is significantly different from combination, chronological or functional resumes because it is all about writing to please the computer software first, and the human who will read it second.
What is an Applicant Tracking System (ATS), and Why Do You Need a Special Resume for ATS Screening?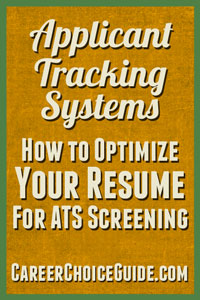 What is an ATS Optimized Resume and Do You Really Need One?: Get the basics on applicant tracking systems. Learn how employers use them to screen applications, and discover how an ATS may impact your job search.
Applicant Tracking Systems and Human Readers: Why you need to use ATS formatting when the employer requires it, even though an ATS optimized resume is less reader-friendly to humans.
How to Format and Save Your Resume For Applicant Tracking Systems
Resume Formatting for Applicant Tracking Systems: There are some very specific requirements for formatting your resume when it will be reviewed by an ATS. Here's how to format an ATS optimized resume.
Scannable Resume Formatting Tips: Use these tips to ensure you write a scannable resume that gets noticed.
Saving an Applicant Tracking System Optimized Resume: Here's how to save your ATS optimized resume to ensure it does not contain any special characters that could cause problems and it is saved in the format the employer requires.
Effective Keywords for Your ATS Optimized Resume
Demystifying Resume Keywords and Phrases: Understand exactly how an ATS uses keywords to score resumes, so you can write your own effective, keyword-rich content.
Researching Resume Keywords: How to research keywords so you have an excellent idea of what words and phrases will likely be used to score your resume.
Targeted Keywords: How to use targeted keywords to ensure your scannable resume gets found in employer searches.
Sample ATS Optimized Resumes
ATS Optimized Resume Sample: Here's a sample resume formatted for ATS review, so you can see all of the recommendations in action.
Scannable Sample: Another sample scannable resume to help you understand how to use this format.
Sections of a Resume
Resume Overviews and Formatting Tips
Resume Outline: Outline and overview of the information to include in each section of a resume no matter which style you choose.
More Resume Outlines: Links to all of the different resume format outlines on this site including functional, combination, chronological, technical, student, and scannable formats.
Profiles and Objectives
Profiles
Profiles state the type of work you are seeking. They bring focus to your resume and make it easier for employers to read your resume more quickly and intelligently. They highlight your area of expertise and can include a job title, but they don't have to. Profiles are suitable for all job seekers.

Profiles: Use these tips and examples for inspiration when you write your own profile.
Update: Please note that, while job objectives used to be fairly common on resumes, their use is a bit controversial now. Some people feel they are falling out of fashion.
Using a profile is a better option, in my opinion, than using a job objective when you have some experience.
A profile can seem overblown for new job seekers with minimal experience. In that case, an objective may be more appropriate.
Objective Statements
An objective is a simple, one or two sentence statement indicating the type of job you are pursuing. Like a profile, it can help bring focus to your resume. It can be appropriate for new, less experienced job seekers for whom a profile may feel somewhat overblown.
Job Objectives: Here's how to write a great job objective.
Sample Objectives: Several sample job objectives to help you write your own objective.
More Objective Examples: More job objective examples and explanations about how and why you would use each type of objective.
Volunteer Work
Not everyone will include volunteer work on a resume.
If you have volunteer experience that helps to demonstrate you are a strong candidate for the job you are seeking, then you should consider adding this section to your resume. 
Here's what you need to know about including volunteer work on your resume.
Should You Include Volunteer Work on a Resume?: Volunteer experience is an optional section on a resume. You'll only include this information if it helps to demonstrate you are a strong candidate for the job. This article will help you decide if you should include your own volunteer experience on your resume.
How Do You List Volunteer Work on Your Resume?: Once you've decided you should list your volunteer experience on your resume, you'll need to decide how to format that section of the document. Here's how to set up the volunteer work section of your resume with clear explanations and examples.
Where Does Volunteer Work Go on a Resume?: Usually, volunteer work belongs at the end of your resume. Employers value paid employment and education first, so if you have paid employment and / or education that's relevant to the job you're seeking, that should come before your volunteer work.
There are times, however, when it may be in your best interest to move your volunteer work up higher on your resume to make it more prominent. Here's how to decide where your volunteer work should go on your resume.
Impactful Words and Phrases for Your Resume
Resume Keywords: Discover how to research the most important buzz words in your industry, so you can write a highly targeted document that gets noticed by employers whether it is scanned electronically or human reviewed.
Action Words: A list of strong verbs, as well as tips to help you avoid common mistakes when choosing and using verbs to describe your experience.
Descriptive Words: A list of strong, descriptive words (adjectives) to use to define and describe your professional skills and experience.
Resume Ideas for Specific Situations

Resume Ideas for Career Change
Career Change Resume Ideas: Discover how to present your current skills and experience in a way that is relevant to your new career.
Student Resumes
Student Resume Ideas: How format a student resume.
Recent High School Graduate Resume Example

Recent College Graduate Resume Example

Technical Resume Writing
Technical Resume Writing: A technical resume uses almost the same strategies as any other kind of resume with one crucial exception. Here's what to do if you need to list a lot of technical skills on your resume.
Technical Resume Template: Are you looking for a job in a highly technical field? Here's the best way to structure your resume if you have a lot of crucial technical skills to highlight.
Sample Resumes
Here's a page with quick links to all of the resume examples below. Consider bookmarking it so you can access them all for easy reference.

General Resume Ideas and Tips
Resume Writing in 12 Easy Steps: Here's a quick, 12 step overview that outlines the process you need to go through to write a winning resume. Thinking about writing your resume in broad, general terms can be stressful. This article breaks down the process so you can think it through clearly, one step at a time.
12 Essential Resume Writing Rules: Write a document that highlights your most marketable skills and creates a great first impression at a glance. With these 12 rules of good resume writing you'll avoid common mistakes that knock people out of consideration for jobs before they even get started.
Do Not Skip This Crucial Step That Most Job Seekers Miss: Discover the single most important step in good resume writing that most job seekers overlook.
9 Common Myths That Hurt Your Job Search: Discover the truth about the biggest resume writing myths that can really hurt your job search.
How to Research a Company: If you know the company you're applying to, you absolutely must research that company before you being to write your resume. No exceptions!
Here's what information you should look for when you research a company, how to find that information even when it is not easy to find, and how to use the information to make a great impression with employers.
Employer Resume Writing Tips and Job Search Advice: Do you ever wonder what employers are thinking when they read resumes? What makes them keep one and toss out another? I asked employers to share their advice for job seekers. Here is what they said.
Avoid These Resume Mistakes: Take a look at these common and completely avoidable resume writing mistakes that can damage your job search if you're not careful.
Job Reference Page
Good Job References: Discover all you need to know about choosing the best people to provide good job references for you.
Reference Page Template: Once you have several good references in mind, setting up a reference page is quite simple. Use this reference page template to get started.
Job Reference Check Tips: Learn about the job reference checking process. Discover how and when to submit your list of references to employers and how to ensure your references are prepared to do a great job for you.
Submitting Your Resumes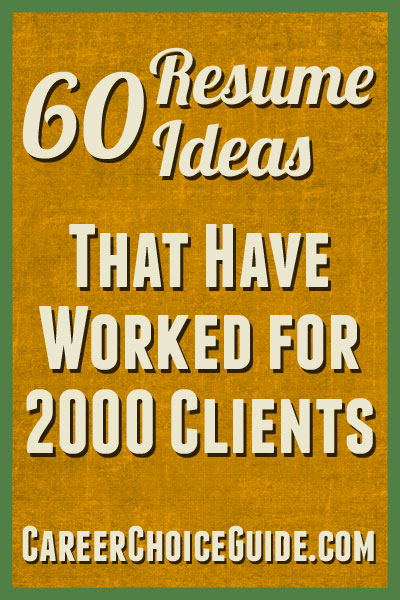 Resume Distribution: Have you considered the fact that how you submit your resume can have an impact on whether you get invited to an interview or not? It's true! There are good ways and bad ways to submit a resume. Here are the best ways to do it.
Job Search Strategies: Before you can distribute your resume, You'll need to find some targeted employers who may need to hire someone with your background. These tested job search strategies have helped many of my clients find great job leads.
What Other Visitors Have Said About Unusual Resumes
Click the links below to read visitors' stories about the most unusual resumes they have seen.

You Are Here