Sample Career Counselor Resume
This sample career counselor resume is a variation of the combination style. The job seeker has a long list of skills and achievements to highlight, so she has organized her skills into several smaller groups to ensure that the skills and accomplishments section of the resume is easy to read at a glance.
When a list of skills gets longer than about eight points, it can be difficult to read at a glance. So, if your skills list gets quite long, it's wise to break it into sections. You can use any headings that make sense. Think about the larger groups of skills you use in you job to determine what headings you might use. You can also look at your list of skills, work out how to divide them into sections, and then determine suitable headings for each group.
You may notice that this job seeker went through a career change; however, that change occurred a few years in the past, so there is no need to make any special adjustments to the resume to address the career change.
Work from her previous career is listed on the resume, but it is not described in detail because she has more relevant and recent experience related to the job she is currently seeking.
Sample Career Counselor Resume
| | |
| --- | --- |
| Sonya Fakename | sonyafakename@emailprovider.com |
| 456 Imaginary Street, City, State | Home: 000 000-0000 Cell: 555 555-5555 |
---
PROFILE
Career coach with 5 years of workshop facilitation experience. Areas of specialization include work with clients who are injured workers, experienced workers, long-term unemployed and new immigrants.
ACHIEVEMENTS
Maintain over 80% success rate in job search workshop; consistently met and exceeded program and agency targets Individually and as a team, developed and implemented successful marketing strategies which doubled program intake numbers Instrumental in establishing new and successful programs within the agency, including building community awareness and refining program delivery and data management Part of a team that consistently provides welcoming, professional and nonjudgmental client support
FACILITATION AND COUNSELING
Use multifaceted program delivery strategies to accommodate multiple learning styles in a workshop setting Proven ability to address group and individual needs within a diverse group setting; foster a respectful learning environment and develop partnerships with clients to ensure client, program and agency success Experienced facilitating workshops for groups of 8 to 12 individuals; taught groups of up to thirty people Excellent knowledge of and ability to research community resources
ADMINISTRATION
Accurately manage client data for caseload of up to 500 clients per year using Excel and complete weekly, monthly, quarterly and annual reports Develop and manage database to efficiently compile and analyse large volume and variety of client data
COMPUTER SKILLS
Experienced with Microsoft Word, Excel and PowerPoint, and Prezi Solid knowledge of self-assessment software including Choices and Career Cruising
Page 2
| | |
| --- | --- |
| Sonya Fakename | sonyafakename@emailprovider.com |
| 456 Imaginary Street, City, State | Home: 000 000-0000 Cell: 555 555-5555 |
---
PROFESSIONAL EXPERIENCE
Job Search Workshop Facilitator
Anytown Career Services, City, State
2008-present
Facilitate three day job search workshop on a weekly basis; course material includes resume and cover letter preparation, effective interview strategies, maintaining self esteem, labor market trends and traditional and creative job search techniques Facilitate weekly two hour workshops on career exploration, resume preparation, interview techniques and job search strategies Manage client data for caseload of approximately 500 clients per year using Excel and in-house software and complete monthly, quarterly and annual reports Provide ongoing support to all clients through telephone follow-up, individual counseling and/or internal and external referrals Responsible for ongoing development of workshop materials and resources Hire and supervise part time workshop support staff
Music Teacher
Anytown School of Music, City, State (part time 2007)
2004-2007
EDUCATION
| | |
| --- | --- |
| Career Coach Program, Anytown College, City, State | 2007 |
| Bachelor of Music Degree, ABC University, City, State | 2004 |
PROFESSIONAL DEVELOPMENT
| | |
| --- | --- |
| Anti-Racist Social Work, Social Development Council, City, State | 2012 |
| Crisis Intervention, Mental Health Association, City, State | 2011 |
INTERNSHIPS
| | |
| --- | --- |
| Intern, XYZ University Career Services, City, State | 2007 |
Co-facilitated seminars concerning career management skills, the new economy and accessing resources for career development
Completed individual resume and cover letter critiques for students, alumni and staff Assisted clients in the effective use of print and computer based resources
| | |
| --- | --- |
| Intern, Community Employment Center, Anytown, State | 2006 |
Assisted clients with print and computer resources, and resumes and cover letter preparation
Completed initial intake evaluations and assessed clients' needs and job readiness
Sample Career Counselor Resume Formatting Tips
Here's a second look at the same resume, this time with notes describing the reasons behind important formatting decisions.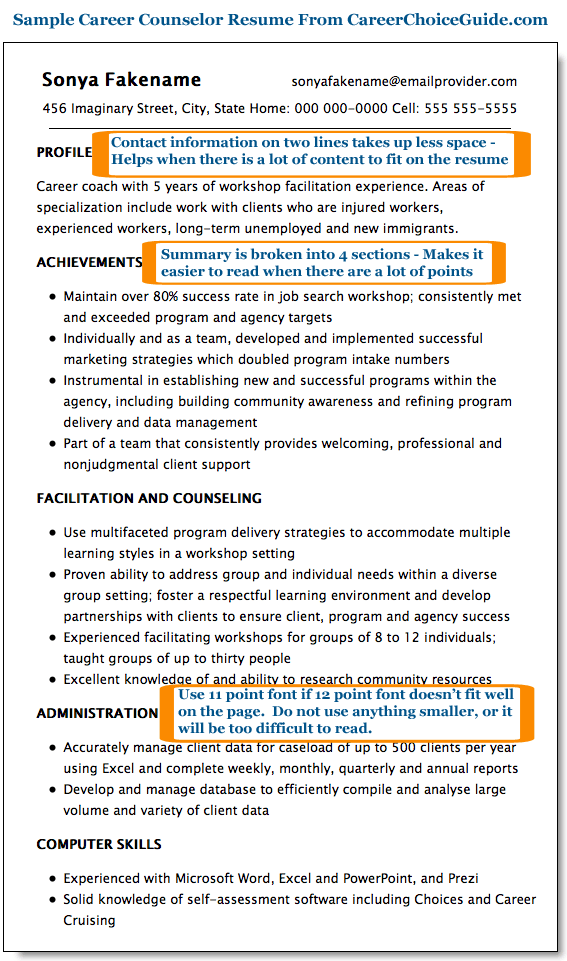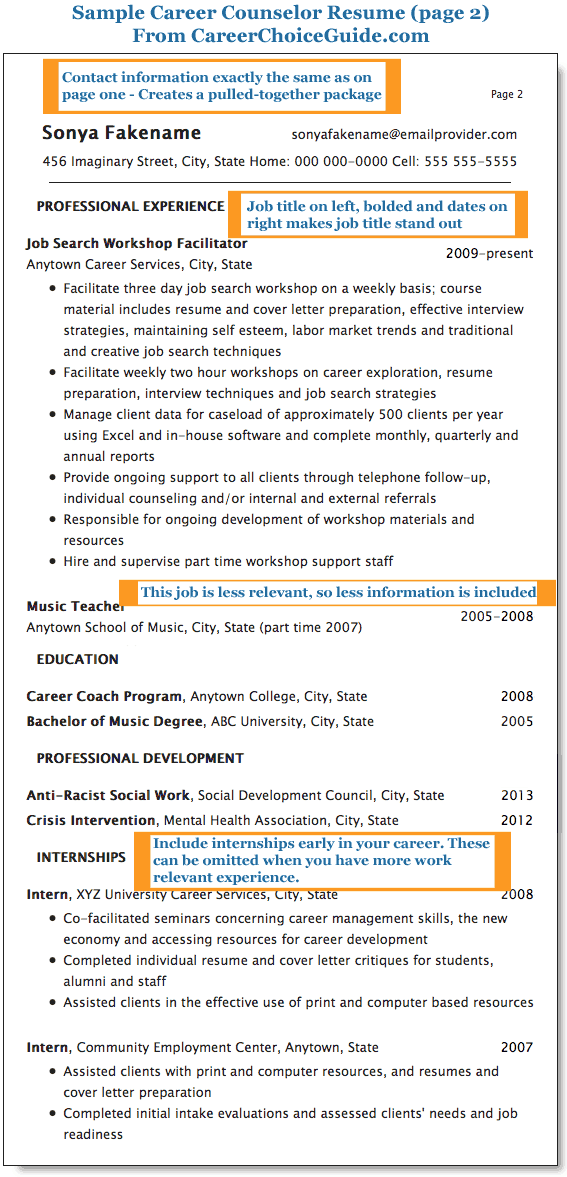 For a comprehensive guide to resume writing, please see my book, The Resume Writing Guide
Like This Page? Please Share It!