Career Change Resume Sample
Referral fees may be earned for purchases made using links on this site. To learn more, see my
disclosure
.
---
Below, you'll find a career change resume sample that shows you how to highlight your most relevant skills and education when making a switch to a new career.

A Combination Resume is the Best Format for Career Changers

The sample resume is written using a combination format.

This popular resume style is almost always the best choice for career changers because it is trusted by employers, and it provides good flexibility in the way you can organize your skills and experience.
A combination resume format allows you to:
highlight the skills most relevant to the new job
and write about them in a way that shows how they are relevant to the new job
That kind of flexibility is often important to career changers because you may need to highlight something other than your most recent work experience. You also might need to write about your most recent work experience in more general terms that show how your old career has helped you to develop skills that are relevant to your new career.
If you're changing careers, your most relevant experience in your new career might come from:
volunteer work
education
school placements or internships
A chronological resume format will allow you to organize your resume in a way that highlights those most marketable and essential experiences. You can put the information that is most relevant to the new career at the top, where the employer will notice it immediately.

Why is a chronological resume usually not the best choice for career changers?
A chronological resume would highlight your past work experience, which is generally not what you need to do when you are changing careers. Typically, career changers need to highlight the skills they can bring to the new career, not their past jobs.
Why is a functional resume usually not a good for career changers?

A functional resume is almost never a good choice for anyone in any situation. Functional resumes are missing essential information that employers expect to see. Employers know job seekers use the functional resume format to hide certain issues in their work history, so they do not trust functional resumes.
What Makes This Sample Career Change Resume Effective?

The job seeker featured in the sample resume below is working to make a career change from teaching music to career counseling. She needs to put all of her career counseling experience near the beginning of the resume, and she needs to write about her teaching experience to show how that experience is relevant to her new career as a career advisor.

Targeted Profile
The profile is used effectively to present this job seeker as a career counselor, and not a music teacher. It is honest, stating that she is a recent graduate of a career counseling program, and doesn't try to over-state her experience, but it still makes the employer think career counselor, and not music teacher at first glance.

Skills Summary Written in the Language of the New Career

Her skills, described in the summary of skills section, are stated in a way that makes sense for the new job. Although some of those skills may have been developed when she worked as a music teacher, they are not phrased in a way that makes them too specific to her previous field.

Most Relevant Information First

You'll notice that all of the job seeker's education has been included before the professional experience section. This job seeker has returned to school to make her career change, and her education is her greatest asset in the new field.
Putting education first allows this job seeker to include relevant internships near the beginning of the resume, so the employer can quickly see that she does have some practical experience in the field.
More General Entries Used for Less Relevant Information

Although this job seeker isn't looking for a teaching job, she has included all of her teaching work experience. It would be a huge mistake to omit this information because the employer might wonder what she is hiding by omitting her prior work experience.

Also, her teaching experience has allowed her to develop some skills that transfer well into her new profession, so it is helpful to include that experience while writing about it in more general terms that show how it is relevant to the new job.
Related: Resume Writing Workbook
Career Change Resume Sample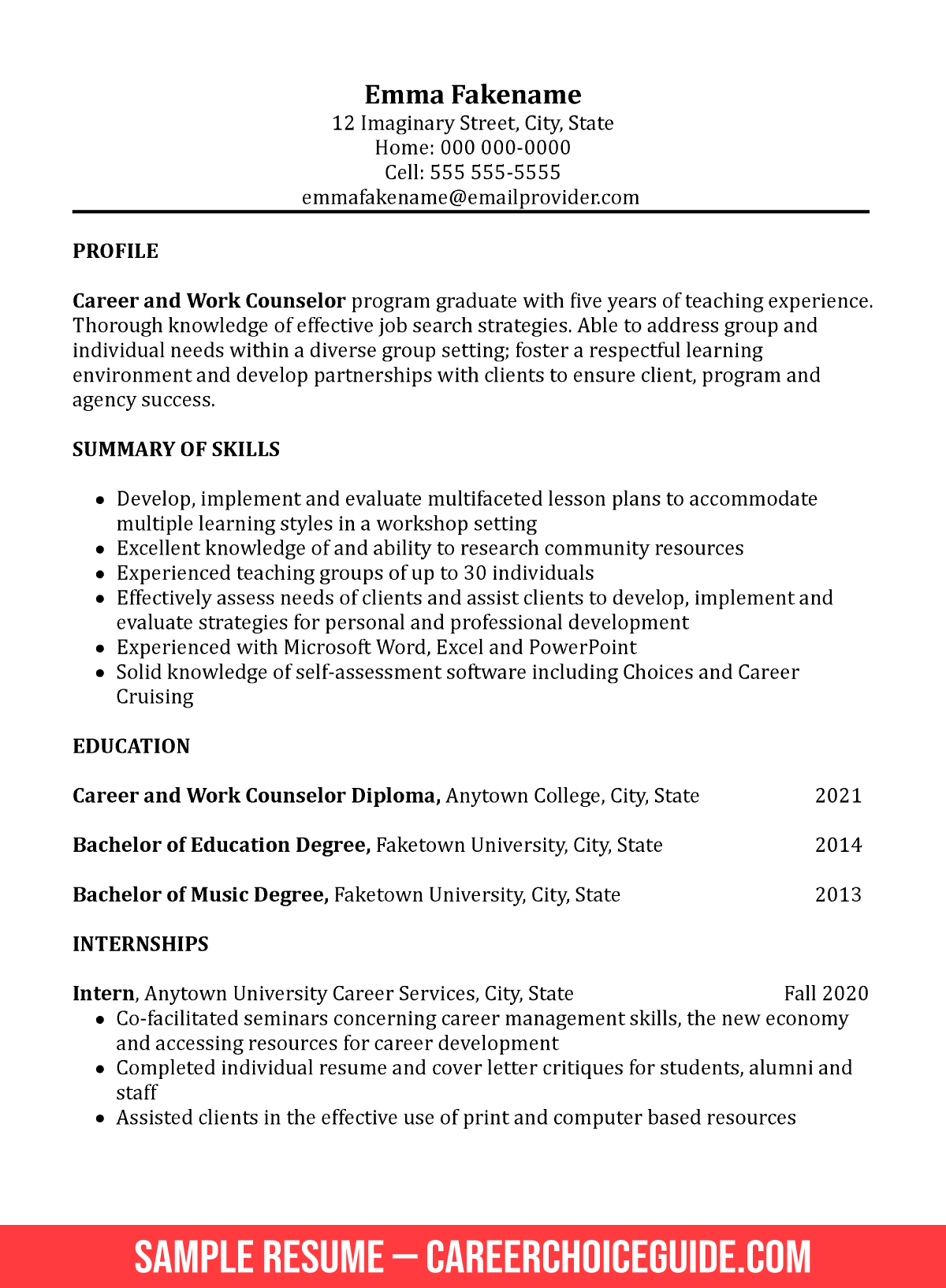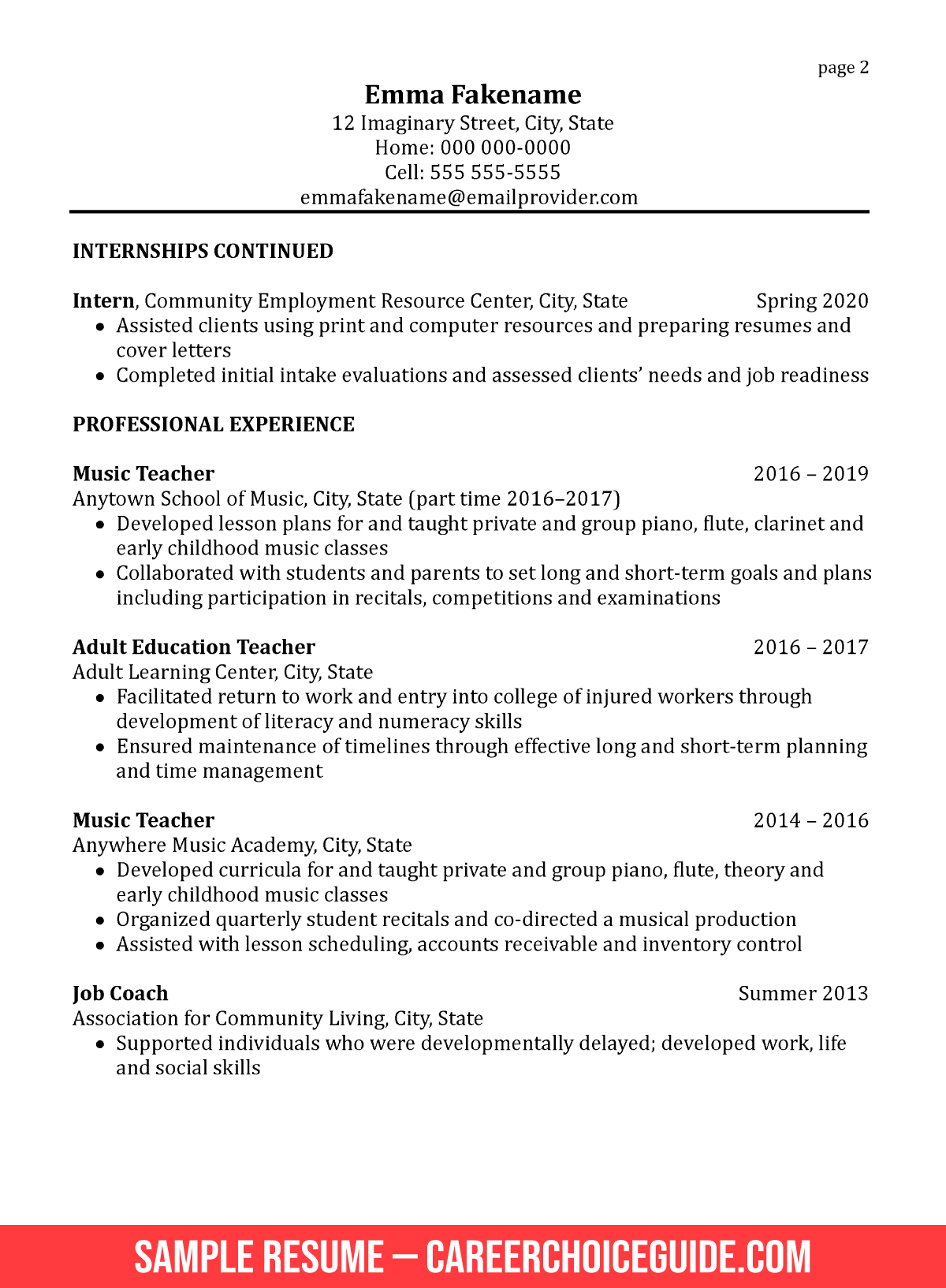 Moving Forward

If you're looking for a detailed, step by step guide for writing a resume, including what to do if you're making a career change, my book, The Resume Writing Guide can help. It will show you exactly how to highlight your experience to make the best possible impression on employers in whichever field of work you want to pursue.

You Are Here
Enjoy This Page? Please Share it!