Forklift Operator Resume
by Lisa McGrimmon
This forklift operator resume shows you how to write an effective resume when your most relevant work experience is in the past.
In this example, the job seeker has several years of experience working as a forklift driver, however, when he was laid off, he couldn't find another related manufacturing job. He is currently working in retail sales at a building supply store, but he would like to go back to his previous line of work.
The resume below shows how he can highlight his most relevant work experience while still including his current job so employers know he doesn't have a gap in his work history.
Chris Fakename 
94 Any Street, City, State 


chrisfakname@emailprovider.com
Home: (555) 555-5555
---
| | |
| --- | --- |
| PROFILE | Experienced forklift operator with valid license and seven years of manufacturing experience seeking a full time position at ABC Widgets. |
SUMMARY OF SKILLS
Over five years of experience working as a forklift operator
Work safely and efficiently with minimal supervision loading and unloading trucks
Possess current lift truck certification
Detail oriented, self motivated, and able to work flexible hours
RELEVANT EXPERIENCE
Forklift Operator 
XYZ Company, City, State

2009-2013
Loaded and unloaded trucks and completed packaging quality checks on material
Reviewed packing slips for inbound loads and completed all necessary paperwork and system updates for inbound and outbound loads
Completed damage reports as required
Ensured proper safe loading and unloading procedures were followed
Maintained clean and safe work environment in warehouse and parking lot areas
Accurately completed daily log sheet and logged and distributed courier packages
Completed daily cycle counts and pallet inventory counts when required
Forklift Operator / Machine Operator 
ABC Company, City, State


2006-2009
Transferred material to and from production areas using forklift
Monitored and adjusted various aspects of the production process to ensure customer requirements were met
Maintained expected production rates and performed product inspection
Investigated and resolved quality concerns
As part of 5S team, reorganized production area to create a cleaner and more efficient work area; reduced wasted effort and improved housekeeping
Performed daily equipment safety inspections
ADDITIONAL EXPERIENCE
Retail Sales Associate 
ABC Building Supply, City, State

2013-present
EDUCATION
| | |
| --- | --- |
| Forklift Certificate, XYZ Training, City, State | 2013 |
| DOT Training, ABC Training, City, State | 2013 |
| HAZCOM Training, ABC Training, City, State | 2013 |
| Grade Twelve Diploma, Anytown High School, City, State | 2005 |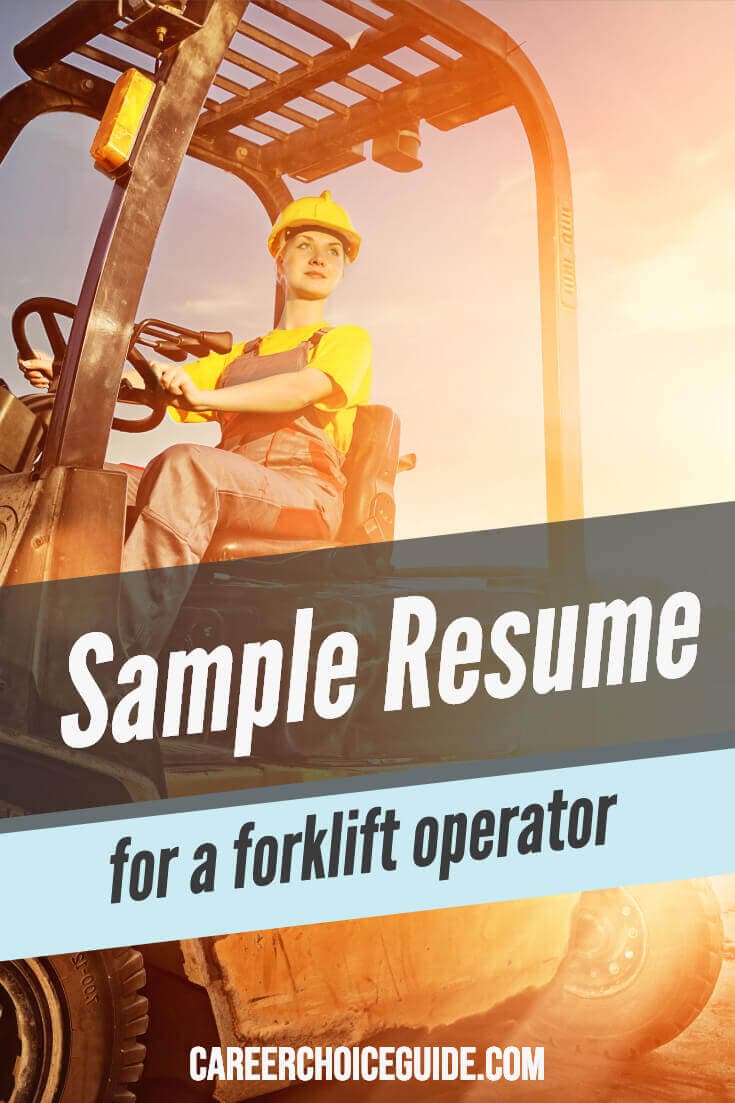 You'll notice that the most relevant experience was moved to the top of the resume in a section labelled Relevant Experience, and it was described in detail. His current, but less relevant job was moved to the bottom of the resume under the heading Additional Experience.
This arrangement allows the most relevant job to stand out while still showing that the job seeker is currently working, which is important because it can make the job seeker a more attractive candidate in the minds of some employers.
The less relevant job was not described. If this job seeker had been working in the warehouse of a building supply store, operating a forklift, this job would be relevant, and then it would be placed at the top of the resume and described in some detail.
One Caveat: You must be careful using this strategy to rearrange the order of your work history.
Never use this strategy if you have been at your current, less relevant job, for a couple of years or more and the more relevant job is more than approximately one year in the past. Doing so may make the employer think you have a large gap in your work history because the first date he or she sees on your resume will be an older date.
For example, imagine it is 2014, and this job seeker was looking for a job as a forklift operator. He has worked in retail sales from 2012 to present, and before that, he worked as a forklift operator from 2008-2011. In that case, he should simply arrange his work history in the standard reverse chronological order (most recent job first). If he tries to move the forklift job up to the top of his resume, the employer may think he has been completely out of work for three years, which can be a cause for concern for many employers.
Using the headings Related Experience and Additional Experience to rearrange your work history can be useful in the right situations, but you do need to be very careful with this strategy. If you are at all in doubt, simply list your work history in reverse chronological order, and include a lot of detail about the relevant jobs and less detail about the less relevant job.
Sample Forklift Operator Resume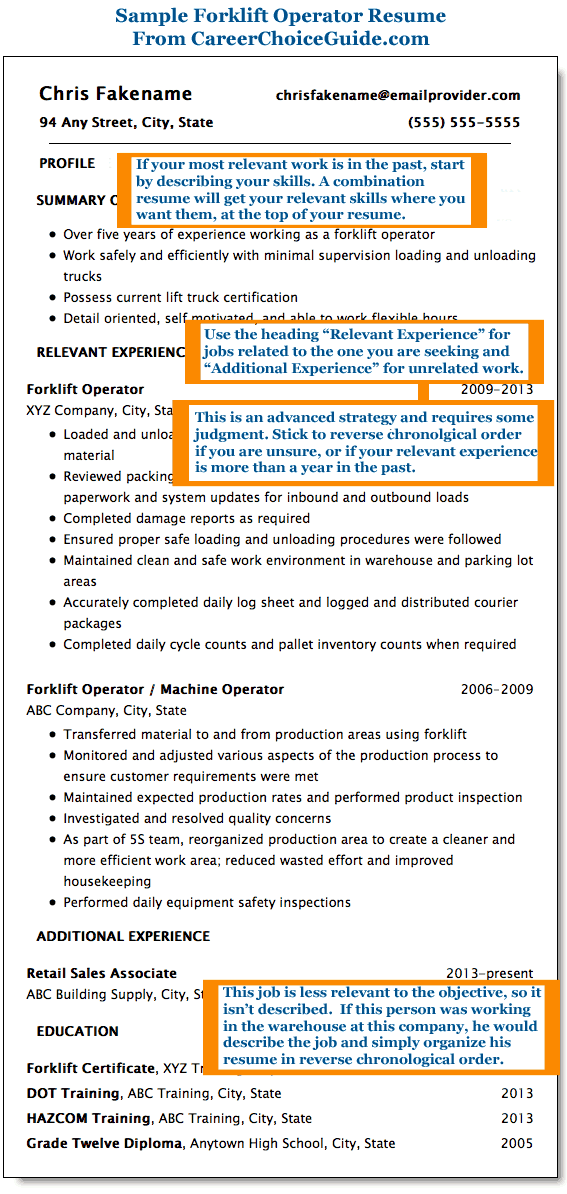 You Are Here
Enjoy This Page? Please Share it!