Sample Teacher Resume
Combination Style
Referral fees may be earned for purchases made using links on this site. To learn more, see my
disclosure
.
---
This sample teacher resume is written in the standard combination style with a summary of skills (called a professional summary here), followed by the job seeker's education and experience.
Joe Teacher 
101 Fake Street, City, State 
(555) 000-0000 
joeteacher@emailprovider.com

---
PROFILE
Elementary teacher with over 5 years of professional teaching experience. Self motivated, and deeply committed to creating a dynamic and supportive learning environment.
PROFESSIONAL SUMMARY
Experienced teaching grades five through seven including multi-age split classes
Develop, implement and evaluate multifaceted lesson plans to accommodate multiple learning styles
Proven ability to address group and individual needs within a culturally and socio-economically diverse classroom setting; foster a respectful learning environment and develop positive relationships with students, parents and colleagues
Dedicated to building a positive school community; active leader and enthusiastic in planning and implementing extracurricular school programs and special events
Experienced with Microsoft Word, Excel and PowerPoint
Maintain accurate records and consistently complete all reports and other written communication in a timely manner
EXPERIENCE
| | |
| --- | --- |
| Elementary Teacher, Anytown Elementary School, City, State | 2011-present |
Teach grades five through seven including two years teaching a grade five-six multiage split class
Prepare and implement grade appropriate curriculum in all major subject areas including, reading, writing, social studies, mathematics and science
Work cooperatively with colleagues to share and develop lessons and resources and coordinate class trip and special in-class guests
Prepare and distribute monthly classroom newsletter, regularly update class information on school Web site, and encourage open communication with parents in person or via email to develop partnerships in learning and inspire a shared commitment to quality education
| | |
| --- | --- |
| Occasional Teacher, Anytown School Board, City, State | 2010-2011 |
Supply teacher in elementary and high school classrooms
Successfully completed several long term contracts including one month position in a grade three classroom and three weeks in a split grade four-five classroom
Demonstrated strong classroom management skills and ability to adapt quickly
Page 2

Joe Teacher 
101 Fake Street, City, State 
(555) 000-0000 
joeteacher@emailprovider.com

---
EXTRACURRICULAR LEADERSHIP
Coach school track and field program; plan and lead training program, organize participation in track meets and coordinate total program for approximately 50 fourth through eighth grade students
Part of the team that plans and stages school winter and spring school-wide student concerts
Co-developed and implemented Personal Responsibility after school program for at risk students in grades five to eight
EDUCATION
| | |
| --- | --- |
| Bachelor of Education Degree, City University, City, State | 2010 |
| Bachelor of Arts Degree, English, City University, City, State | 2009 |
PROFESSIONAL DEVELOPMENT

Instructional Models for Gifted Students Course 
City University, City, State

2013

TESOL Certificate, (Teaching English as a Second or Foreign Language),
City University, City, State2012

2012
VOLUNTEER EXPERIENCE

| | |
| --- | --- |
| Tutor, ABC Community Tutoring Program, City, State | 2008-2010 |
Worked individually and with groups of up to five students to develop literacy and numeracy skills
| | |
| --- | --- |
| Play Group Leader, City Children's Centre, City, State | 2007-2009 |
Initiated, developed and team-taught activities to build social skills, impulse control and self-esteem using play therapy concepts and strategies
| | |
| --- | --- |
| Teacher's Assistant, City Elementary School, City, State | 2007-2009 |
Worked with grade two classroom teacher to prepare materials for use in the classroom and assisted with supplementary reading program
Sample Teacher Resume Formatting Tips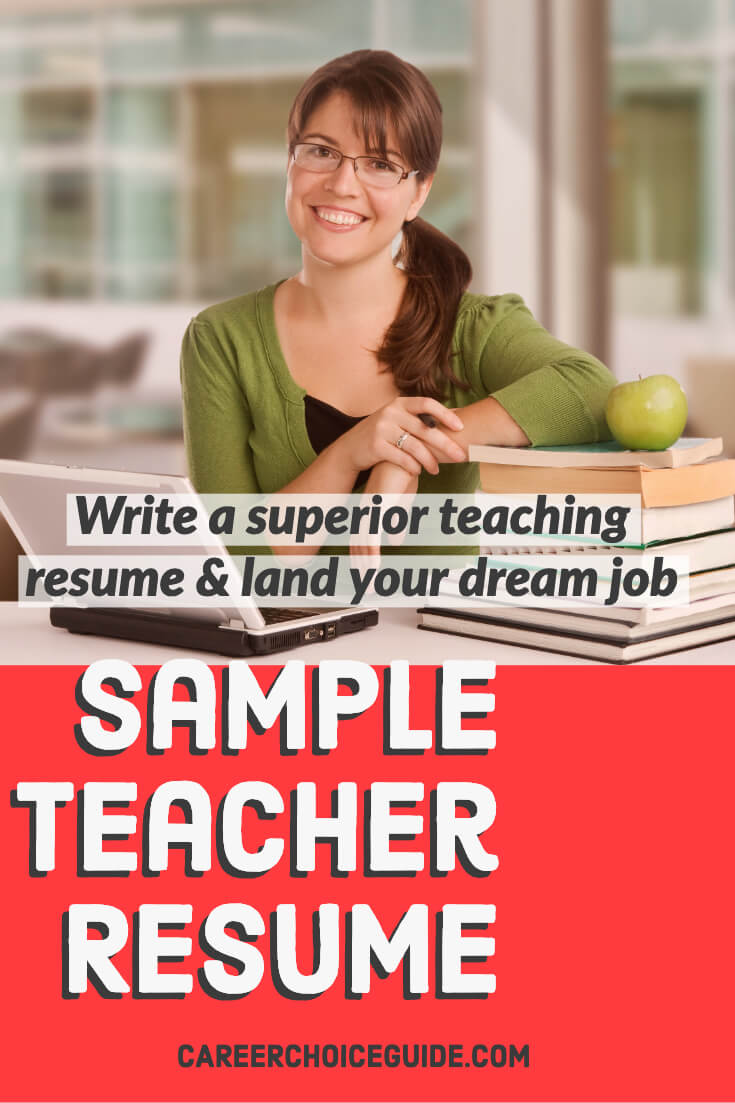 Here is the same elementary school teacher resume with notes added to show why certain formatting decisions were made.
Of course, your own resume formatting will change based on the amount and type of content you include, but this will give you some insights into effective tricks you can use to make your resume sit well on the page and to show your experience in the best possible light.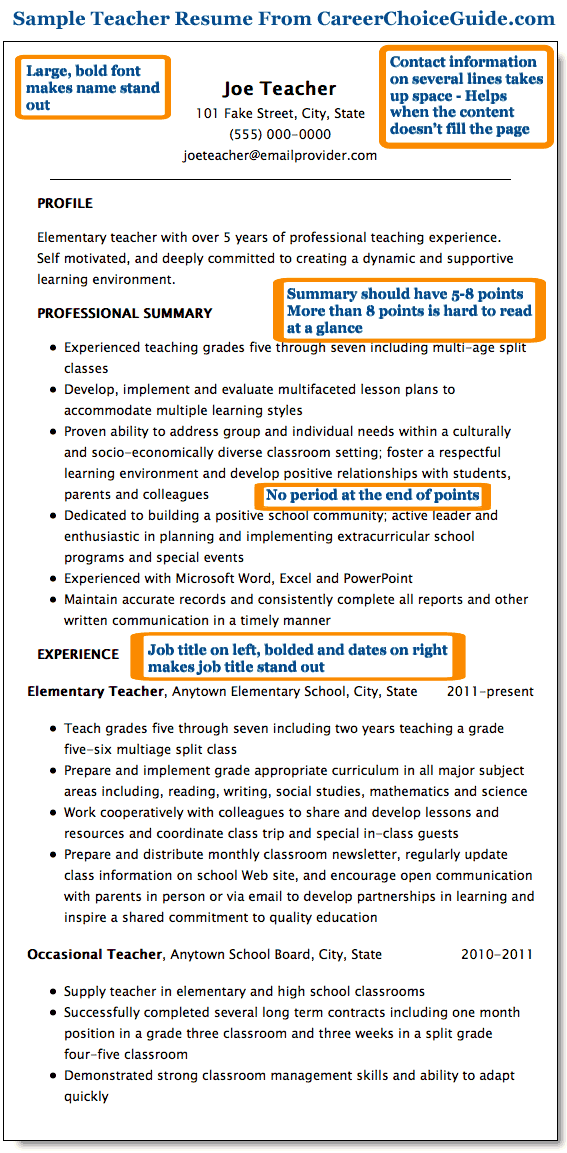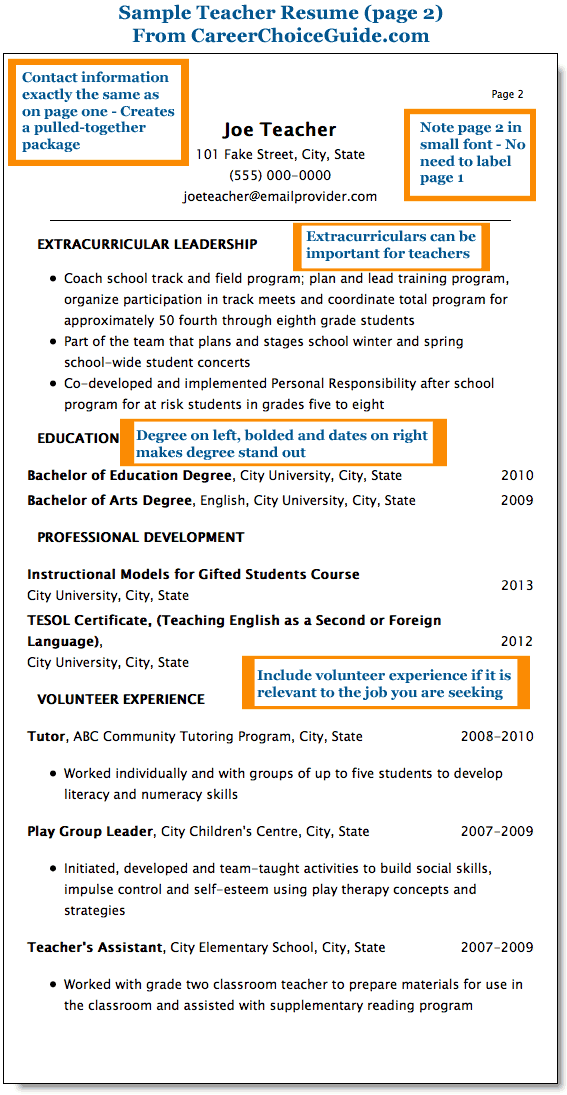 You Are Here
Enjoy This Page? Please Share it!