Resume Formatting for Applicant Tracking Systems
Referral fees may be earned for purchases made using links on this site. To learn more, see my
disclosure
.
---
If you're writing a resume that will be reviewed by an ATS, you'll need to throw out everything you know about resume formatting for human readers, and learn a new set of rules.
Actually, in a lot of ways, formatting a resume for an ATS is easier than formatting a resume for a human reviewer because the structure is much simpler, there are fewer choices to make, and the ATS optimized resume doesn't have to fit nicely on a page the way a human-friendly resume must. However, with ATS screening, you really do need to get the formatting right to ensure your resume will be read.
I'm jumping right into the topic of formatting your resume for an ATS and assuming you know what an ATS is and how it might be a factor in your job search. If you need a quick summary about what an applicant tracking system is and how to tell if it might be relevant to your job search, you can find it here.
Remember, when you write an ATS optimized resume, you are formatting it to make your resume easy for a computer to read. Formatting for a human reader is not your primary concern. However, a human reader will eventually see your resume if it scores well in the ATS screening process, so you can't completely ignore the needs of a human reader. There are a few strategies you can use to make an ATS optimized resume more attractive to human readers without causing problems with the software.
So, forget what you know about resume formatting for human readers, and use these recommendations to set up your resume for an ATS.
I earn a commission for purchases made through links on this page.

General ATS Resume Formatting Tips

Use Standard Section Headings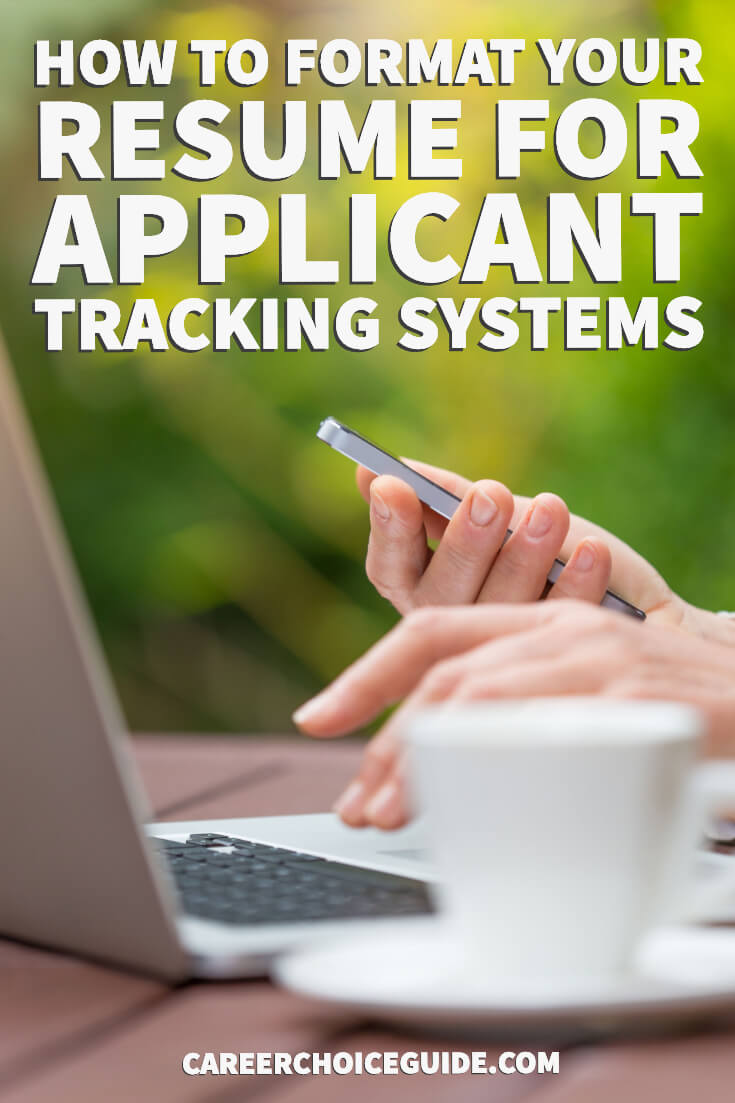 Section headings are particularly important on ATS screened resumes because they help the software understand what type of information will follow the heading. If you get fancy with your section headings, the software may misinterpret the content of your resume. Standard headings include:
Summary
Profile
Work Experience
Education
Volunteer
Publications
Presentations
Certifications
If you use non-standard headings or combine two sections together, your resume may not be interpreted correctly by the software
Use Straightforward Resume Organization

When you write a resume for human review, you might get a bit fancy with your resume organization in order to bring certain relevant experiences up to the top of your resume. These strategies are effective when a human reviews your resume, but they can cause problems when an ATS screens your resume. You should stick to presenting your experience in a straightforward, predicable reverse chronological order when your resume will be screened by an ATS.

Use Capitals and Bold Text to Highlight Section Headings

You need to avoid italics and underlining on ATS optimized resumes, as well as any other fancy formatting that is often used on traditional, human-reviewed resumes. You can, however type section headings in all capital letters and use bold font to highlight sections. The capitals and the bold help identify section headings for the ATS, and when your ATS resume is eventually seen by a human reader, the capitals and bold will make your resume more readable.

Include a Blank Line Between Separate Sections, and Avoid Putting Blank Lines Between Information That Belongs Together

Including a blank line before separate sections (i.e. before a section heading, or before a new job entry) helps the ATS to understand which information should be grouped together in your resume. Similarly, you should avoid putting blank lines in sections that belong together. For example, all of the information about a job you have held should be grouped together with no extra blank lines breaking up the entry.

Stick to Common Fonts and Avoid Extra-Large or Extra-Small Font Sizes

Standard fronts like Arial or Verdana are safe for a resume that will be read on a screen. If you choose an uncommon font, it might not be installed on the employer's computer, and that can cause a lot of problems with reading your resume. Also, there's no need to get fancy with font sizes. 12 point font is fairly standard. Remember, you don't have to make an ATS optimized resume fit nicely on a page, so there's no need to change font sizes throughout the document.

Use Point Form Lists With Bullets

Bulleted point form is easily interpreted by an ATS as well as a human reviewer because the bullets clearly separate new entries. Standard, round bullets are completely acceptable to use on an ATS-friendly resume, but do avoid any other non-standard bullet styles.

Don't Worry About Resume Length

A resume that will be screened by an ATS can be longer than two pages if necessary. If you need more than to pages to fully explain all of your skills and experiences, go ahead and use more than two pages if you are writing an ATS optimized resume.

Avoid Fancy Formatting and Characters

Resume formatting for an ATS must be extremely simple to ensure the software reads your resume correctly. Be sure to avoid the following:
Headers and footers
Templates
Borders
Shading
Lines
Text boxes
Symbols (standard round bullets are fine, but avoid any other type of bullet)
Accents on words or other special characters
Left Align Everything

Avoid extra spaces between words and avoid justifying or text. Left align everything.

Tips for Formatting Each Section of Your ATS Optimized Resume

Contact Information

Keep your contact information simple. Be sure to put it in the regular body of the text; do not put it in a header.

Put each item on a single line like this:

Name
Address
Phone
Email
You may consider omitting your address, particularly if you live far from the job and are concerned employers may be filtering resumes based on location.

Profile

Your profile will be very similar to a profile written for a traditional resume. Do look for opportunities to include important keywords, and, if at all possible, include the job title exactly as it is written in the job ad in your profile.

Summary

Some resume writers recommend including a list of individual keywords at the top of the resume, others recommend including a summary of skills that describe your skills and achievements in bulleted point form. I prefer to include a summary of skills and achievements.
Although a keyword list does give you an easy opportunity to fill your resume with the keywords an ATS might be looking for, more sophisticated ATS software is able to recognize and give more value to keywords in context. That is, the ATS can tell the difference between a "disembodied" keyword that is just a part of a keyword list vs. a keyword that is used as part of a natural phrase describing that skill. For that reason, I tend to recommend using a skills summary.
Also, a skills summary allows you to describe your level and quality of expertise and experience with specific skills, and that type of description, when done well, will go a long way to make a positive impression on the human reviewer once your resume reaches that stage.

Work Experience

Be sure to look for opportunities to include relevant keywords describing your work. List your work experience in reverse chronological order (most recent job first). Avoid strategies that are sometimes used with human-reviewed resumes to move certain information to the top of your resume. Keep it simple.
When you're organizing your work information, be sure to include your employment dates after the job title and company name. Applicant tracking systems are often programmed to look for employment information in that order, and, if you include your employment dates before your company name and/or job title, the ATS may not interpret that information correctly.
A safe way to format your job information on an ATS-friendly resume is as follows:

Company
Location
Position
Dates
Description (in bulleted point form)
Education

As with the work experience section of your resume, keep your education simple and in reverse chronological order, and look for opportunities to include relevant keywords.

A safe way to organize your job information is as follows:

Name of degree or diploma, and subject of specialization
School
Location
Date the degree was received (or date the degree is expected)
Details about course work in bulleted point form
Including details about your course work is optional. Typically, recent graduates are more likely to include this information than people with established careers. However, including details about coursework can provide an additional opportunity to add relevant keywords, and it is crucial if the job you are pursuing requires a candidate who has completed specific courses.

Volunteer

Follow the recommendations for formatting your work experience. Organize your volunteer work in reverse chronological order, and look for opportunities to include relevant keywords. Again, be sure the dates are included after the name of the organization and after the title that describes your volunteer role.
Your ATS optimized resume will not be the most attractive resume you've ever seen. Don't worry. This plain formatting is crucial if your resume will be read correctly by a software program. Employers who use applicant tracking systems are aware of these formatting requirements and expect to see resumes that are very plain looking.
In addition to formatting, I've mentioned the importance of including relevant keywords on your resume, but I have not described in any detail how to use keywords effectively on your ATS-friendly resume or how to determine which keywords to include. You'll find that information here:
Learn More About Writing ATS Resumes:

What is an ATS Optimized Resume and Do You Really Need One?: Get the basics on applicant tracking systems. Understand what they are and which employers typically use them in their hiring procedures.
Applicant Tracking Systems and Human Readers: Why you need to use ATS formatting when the employer requires it, even though an ATS optimized resume is less reader-friendly to humans.
Demystifying Resume Keywords and Phrases: Understand exactly how an ATS uses keywords to score resumes so you can write your own effective, keyword-rich content.
Researching Resume Keywords: How to research keywords so you have an excellent idea of what words and phrases will likely be used to score your resume.
Saving an Applicant Tracking System Optimized Resume: Here's how to save your ATS optimized resume to ensure it does not contain any special characters that could cause problems and it is saved in the format the employer requires.
ATS Optimized Resume Sample: Here's a sample resume formatted for ATS review so you can see all of the recommendations in action.
In-Depth Resume Writing Help

My book, The Resume Writing Guide, will give you step-by-step instructions for writing an effective resume optimized for human reviewers or ATS software.
You Are Here