Retail Manager Resume for a Job Seeker Who is 45+
Referral fees may be earned for purchases made using links on this site. To learn more, see my
disclosure
.
---
This retail manager resume is written for a job seeker who is over 45 and concerned he might be experiencing some age discrimination in his job search. It shows how to make it more difficult for employers to make assumptions about this person's age.
Some clients have asked me, "Why bother minimizing age on a resume when the employer will know exactly how old I am when I get to the interview?"
It's a smart question, but the fact is, you need to get to the interview first!
The function of a resume is not to get you a job. It's to get you to the interview. So you minimize any potential for age discrimination at this stage, and then when you are invited to the job interview, you can deal with mitigating any negative or incorrect assumptions employers might have based on your age.
Resumes, although extremely important and essential, have limitations. Employers can only get to know you so well by reading a piece of paper. That's why interviews are necessary. But you need to get yourself to the interview stage in order to even have a chance to show employers that any assumptions they might have about age are not valid concerns.
James Manager 
67 Fake Street, City, State 

jmanager@emailprovider.com
Home: (555) 000-0000
Cell: (000) 000-0000
---
| | |
| --- | --- |
| PROFILE | Retail manager with over ten years of progressively responsible fashion retail sales and management experience. Able to motivate staff in a competitive team- based environment. |
ACCOMPLISHMENTS
Consistently meet and exceed monthly store sales targets
Developed and implemented effective marketing strategy which increased store sales by 15% at a time when stores in other locations were experiencing declines in sales
Created staff training manual and records system, which streamlined training process and ensured staff had received all training relevant to their role in the store
Achieved lowest staff turnover rate of all store locations though effective employee recognition and training strategies
Trained store managers on staff recognition and training strategies, which resulted in partner stores reducing staff turnover by an average of 20%
Experienced with Word and Excel
EXPERIENCE
| | |
| --- | --- |
| Manager, ABC Clothing Company, City, State | 2009-present |
Supervise a staff of 3 full time and 6 part time employees, and oversee day to day operation of a busy and growing retail clothing store
Assist customers, with an eye to providing exceptional, personalized customer service and building relationships with long term, loyal customers
Organize and lead team meetings and training sessions
Hire and train new staff
Create staffing schedules and manage payroll
Set monthly sales targets and track all sales data and store budget
Track inventory and analyze product sales and communicate sales trends to company buyer
| | |
| --- | --- |
| Retail Sales Associate, XYZ Clothing Company, City, State | 2005-2008 |
Handled all aspects of sales including assisting customers with choices, advising on care of products, and processing cash, credit card, and debit payments
Developed creative window displays to increase walk-in customers and draw attention to featured products
EDUCATION
Grade 12 Diploma, Anytown High School, City, State
Here is a look at what was done to minimize the potential for age discrimination on this retail manager resume.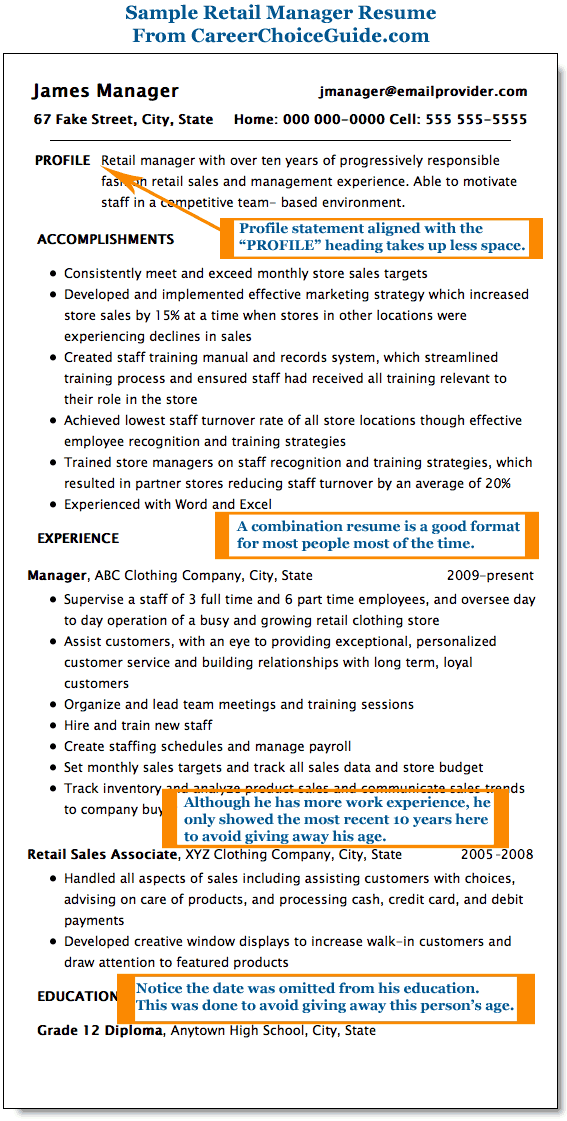 You Are Here
Enjoy This Page? Please Share it!