Sample Customer Service Resume
Referral fees may be earned for purchases made using links on this site. To learn more, see my
disclosure
.
---
This sample customer service resume is written in the combination style. You might notice that the content has been formatted to take up a little extra space since there was too much information to fit well on one page but not enough to fill two pages.
A customer service representative resume should highlight both soft skills and technical skills, as you will see in this example.
Jane Fakename 
202 Any Street, City, State 
Home: (555) 000-0000 
Cell: (000) 000-0000 
janefakename@emailprovider.com

---
PROFILE
Experienced customer service representative with proven commitment to increasing productivity, customer satisfaction and company productivity. Areas of expertise include client services, troubleshooting, and account retention.
PROFESSIONAL SUMMARY

Efficient, well organized and able to work in a fast paced environment; resolved approximately 200 inquiries per week
Results oriented; consistently exceed company targets for quality, accuracy and speed of service by over 20%
Excellent sales skills; successfully cross sell products on 45% of calls
Committed to maintaining exceptional product knowledge to effectively resolve customer concerns and up-sell by recommending appropriate products
Demonstrated ability to effectively assess areas of customer concern and offer appropriate recommendations, resulting in increased productivity, account retention and customer loyalty
Able to quickly establish a positive rapport with clients and work well with all levels of management
Proficient with MS Word, Excel, PowerPoint, Outlook and able to quickly learn industry specific customer service software
ACCOMPLISHMENTS
Lead trainer for new call centre staff; ensured new customer service representatives made smooth transition into new role and were able to provide quality customer service
Developed training and customer service manuals for four new product lines
Proven ability to diffuse volatile customer situations; directly responsible for resolving complex issue that resulted in retention of $500,000 contract
Completely revised product database, which simplified product information searches and increased representative efficiency by an average of 10%
Page 2
Jane Fakename 
202 Any Street, City, State 
Home: (555) 000-0000 
Cell: (000) 000-0000 
janefakename@emailprovider.com

---
EXPERIENCE

| | |
| --- | --- |
| Customer Service Representative, ABC Company, City, State | 2009-2014 |
Consulted with customers by telephone; provided information about products, processed orders, and resolved customer concerns
Based on knowledge of recurring customer concerns, recommended changes to packaging, shipping and billing methods, which completely eliminated some issues, and reduced customer calls on other issues by 60%
Maintained accurate and timely records of customer communications and transactions, and followed up to ensure appropriate actions were completed to resolve customers' concerns
| | |
| --- | --- |
| Customer Service Representative, XYZ Company, City, State | 2007-2009 |
Worked with customers to resolve billing related issues and assist sales staff with concerns related to specific transactions and billing
Advised potential customers, providing information about packages and pricing, plan features and billing processes
Accurately completed enrolment records and maintained complete and accurate records of customer calls using in-house customer service software
EDUCATION

Diploma in Customer Service 
City College, City, State


2006

PROFESSIONAL DEVELOPMENT

Cross Selling Strategies Course 
ABC Company, City, State

2013


Closing the Sale Course 
ABC Company, City, State

2011
Here is the same resume with explanations about why certain formatting choices were made.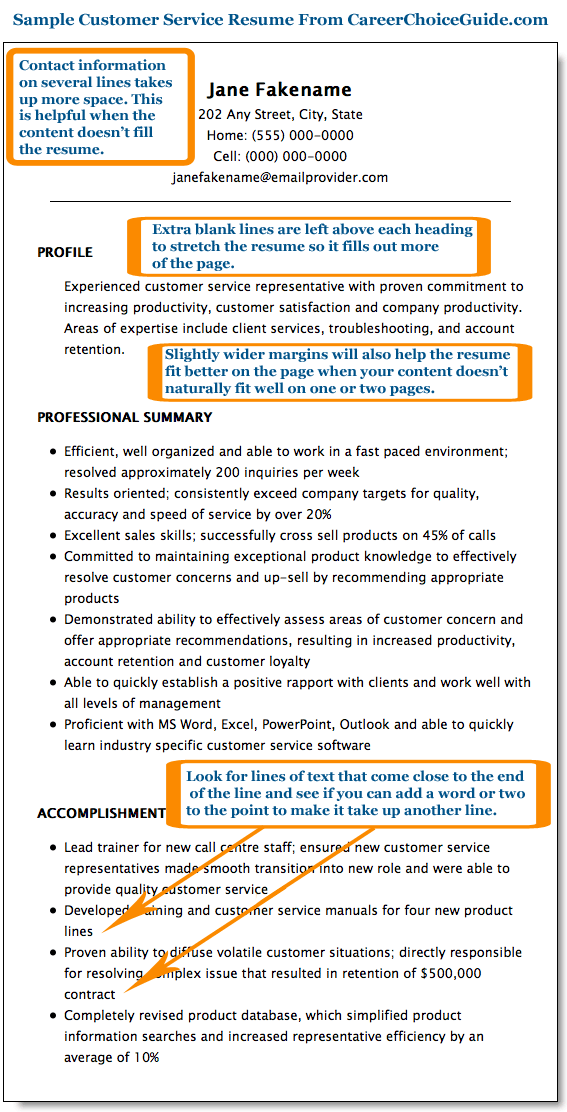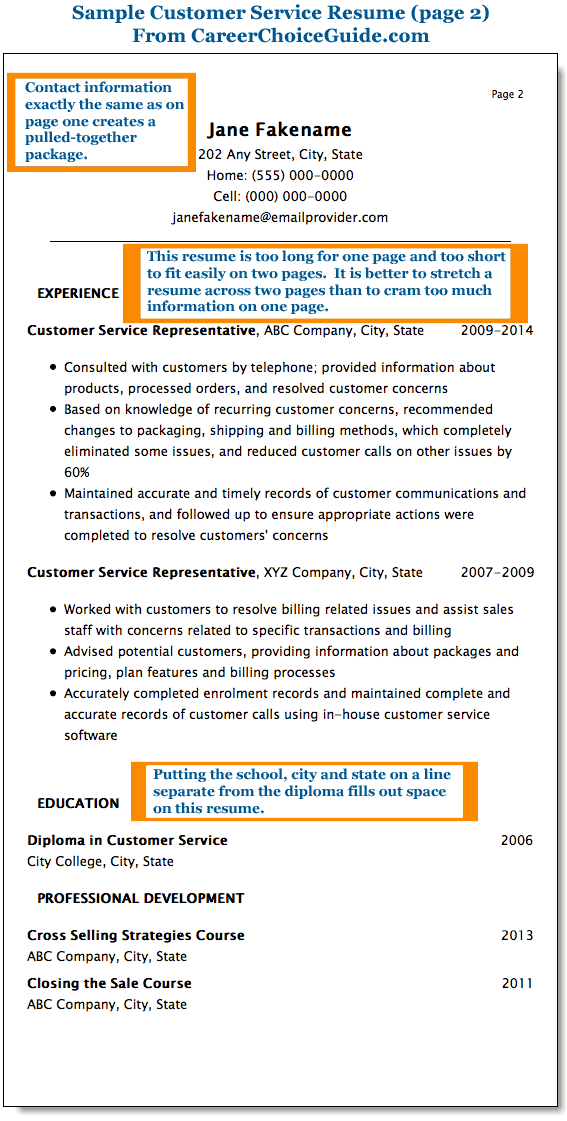 You Are Here
Enjoy This Page? Please Share it!