Here are my top 5 career networking tips. There are endless ways to find job leads, but if you want to focus your efforts on the most productive job search strategies, use these five techniques.
Job leads should be divided into advertised jobs and unadvertised jobs.

The majority of job leads are unadvertised, and, in most cases, the best job leads are unadvertised.
Unadvertised job leads are often better jobs, and there is less competition for those jobs.
Therefore, the majority of my top career networking tips will focus on ways to find unadvertised jobs.
The absolute first thing job seekers should do to search for hidden jobs is talk to people they already know. Asking people you already know for job leads is the fastest and easiest way to start networking for a job and accessing the hidden job market.
Joining a job club can be a smart strategy for finding a job. Job clubs are groups of job seekers who get together for a set time period (the time varies depending on the job club) for job search instruction and support.
Job clubs are often facilitated by a career specialist who will provide structure and encouragement to the group and teach group members how to do an effective job search.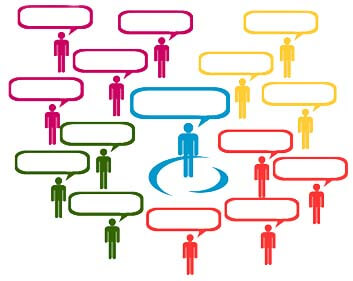 I fully believe in the effectiveness of the job club model for supporting people who are looking for work. Job clubs provide you, not only with the information you need to do an effective job search, but also with the social support required to maintain enthusiasm and motivation for your job search.
I ran a job club for about five years, and, even in tough economic times, the success rate of the group was approximately 80% within 3 months of attending the group.
When you're networking for job leads, personal calling cards will give you an easy and professional way to pass along your contact information to anyone who may be able help with your job search.
It's surprisingly easy and inexpensive to buy and design your own personal business cards, and they can be an extremely effective job search tool.
4. Consider Informational Interviews - A Fantastic and Under-Used Job Search Strategy
Informational interviews are one of the best ways to get in-depth, fairly unbiased information and about specific occupations and discover hidden jobs.
I know most job seekers roll their eyes at the thought of doing informational interviews. However, I have done several informational interviews myself, and I have helped friends and clients set up very productive informational interviews.
I can confidently say from experience that informational interviews are one of the best things you can do if you are job searching or making a career change.
5. Look for Advertised Jobs, But Limit the Time You Spend on This Job Search Strategy
With all of the focus on career networking tips and finding unadvertised jobs, don't completely ignore advertised jobs.
Spend approximately 20 percent of your time pursuing advertised jobs. To avoid becoming lost and overwhelmed by the number of sources of advertised job leads, spend some time assessing the best job posting sites for your specific needs, and focus your time on reviewing those sites.
Be very careful to avoid spending the majority of your time pursuing advertised jobs. Most jobs seekers spend far too much time focusing on advertised jobs. Although it is worth spending a little time pursuing advertised jobs, it should not be the focus of your job search.
If I could only use or recommend a few job search strategies to find job leads, the 5 strategies above are the ones I'd start with.
You need to be a bit of a detective when you're job searching, and you also need to manage you time well to focus on the most productive job search strategies.
These career networking tips and strategies may push your boundaries and take you outside of your comfort zone more than simply responding to advertised job leads. However, that's exactly the point. Unadvertised job leads are harder to find, but it's worth the effort because once you find the leads, the job are easier to get because there is very little competition.
There are many, many more effective job search techniques, but some are more effective than others depending upon the type of work you are looking for.
To stretch beyond these 5 essential career networking tips, review these 26 Job Search Networking Tips to get even more ideas for finding job leads in your area.