When you're job searching, personal calling cards can provide you with a professional and socially appropriate way to share your contact information with people who may be good business contacts. Learn how to design great cards and use the effectively in your job search.
When you were employed, you likely used business cards provided by your employer for business networking. As a job seeker, personal business cards can very effectively serve the same purpose.
Your personal cards will be very useful at any time when you meet someone who would be a good business contact and may be able to provide you with job leads or other support related to your job search, and you want to provide that person with your contact information but you either do not have a resume with you or it would not feel socially appropriate to hand your resume to that person at that time.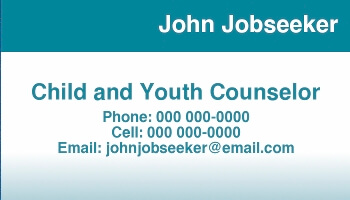 Sample Business Card for Job Seekers
Your name
Your contact information - The same contact information you'd include on your resume (phone, email and address)
The title of the job you are seeking
Related Article: How to Use Personal Business Cards for Effective Career Networking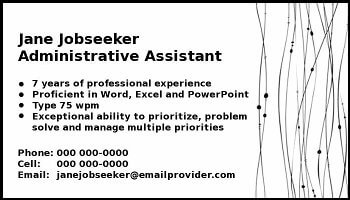 Sample Business Card with Qualifications
Your calling cards may also include two or three important skills or qualifications that make you highly marketable in your field of work.
Do not go overboard with this strategy. It is important to keep your cards clean and professional looking.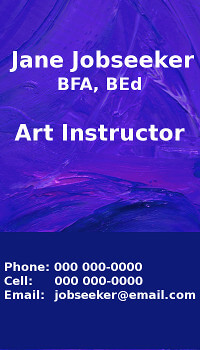 Sample Business Card for Someone in a Creative Field
You can easily create and buy business cards at VistaPrint.
Many of my clients have purchased very inexpensive business cards there, and I have also bought business cards through Vista Print myself. The business cards I bought at Vista Print cost about half the price they would have cost at a local printer.
VistaPrint has many designs to choose from. Just ensure that the design you choose is in line with the nature of your business.
For example, if you work in a creative field, you can get away with more artistic business cards. If you work in a very conservative field, your personal calling cards should be conservative.
Also, be aware that each upgrade you choose at Vista Print (printing on the front and back, glossy paper etc.) increases the price of your cards. Be sure to review your cart before your purchase to ensure any extras you may add are worth the additional price.