Job Search Mistakes Exposed
Can't Find a Job? Find Out Why and Get Back to Work!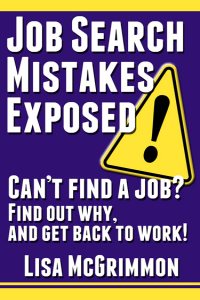 "This book offers plenty of good sound
and solid advice. A quality of information
that can only come from a pro. So, if you
are looking to nail that job, this book
will be a great support being successful.
That's for sure!" Martha
My book, Job Search Mistakes Exposed, is a mini-guide that will show you exactly why you can't find a job, so you can fix whatever you're doing wrong and get back to work!
If you've been stuck in a job search rut for a while, there are plenty of things you can do to boost your chance of success.
Unfortunately, most job hunters who struggle to find work simply keep toiling away using the same old strategies that haven't been effective for them. If you really want to jump start your job search, you need take a moment, step back, and figure out exactly where you are getting stuck in the process and why.
You can waste a lot of time and energy and be out of work a lot longer than necessary if you just tinker with random elements of your job search instead of drilling down to discover and then fix the real problem.
Job Search Mistakes Exposed will show you exactly where you are getting stuck and why so you can fix the real problem and get back to work!
---
Buy Now at:
---
Inside Job Search Mistakes Exposed You'll Find...
A simple strategy to determine exactly where you are getting stuck in your job search and why. You'll learn to understand and analyse your own job hunting efforts so you can find the real problems and fix them.
A breakdown of the 3 main stages of a job search and 6 factors that can hurt or help your hunt for work so you will fully understand the process and know all of the factors that are under your control and have an impact on your success.
6 exclusive printable forms to guide you through the steps in the book and help you optimize and organize your job search.
Links to additional resources so you'll know exactly where to go next once you determine what part of your job search could use some improvement.
Insights from an experienced career coach who has helped over 2000 clients get hired. When you work with that many job seekers, you start to see very clear patterns. I know what works and how people get stuck. In this book, I explain how to figure out where you are stuck so you can fix it!
---
Buy Now at:
---
Don't Give Up!
Too many people give up on their hunt for work out of frustration, especially when the economy is tough.
There are plenty of things you can do in a tough labor market to improve your chance for success. In fact, the information in this book is doubly important in a tough economy because when competition for jobs is fierce, that's when job seekers truly need to focus, be strategic and commit to doing all of those extra steps that give you the edge over your competition. You can have more control in this process than you might realize.
What My Clients Have Said...
"I would like to thank you for sharing so much information and endless possibilities. Each time a little problem arises, I know I will be able to handle it because I will be able to say, oh yeah, Lisa explained that to me. Thanks for all your help." Dianna
"I am happy to report that I am once again gainfully employed. You have no idea how much your encouragement and help meant to me. Thank you." Sue
"I would like to take this opportunity to thank you personally for the excellent job search information. The information helped me to be better prepared to market my skills and experiences in today's changing unemployment job market." Georgina
---
Buy Now at:
---