Cover Letter Sample
The cover letter sample below will give you some ideas and inspiration for writing your own cover letter.
This specific letter was written for an administrative assistant. However, you can still benefit from reviewing it even if you're not an admin assistant.
You'll still be able to use this sample to get a better sense of what a good cover letter looks like, and to get some ideas about what you might include in your own letter.
Take me straight to the cover letter sample!
Formatting
The cover letter sample at the bottom of this page was designed to match with the resume heading shown below.
Resume heading matches the cover letter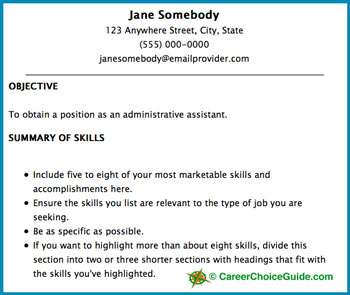 Cover Letter Writing Guide
If you compare the two documents, you'll notice that the heading with the jobseeker's name and contact information centered at the top of the resume is matched exactly on the cover letter.
It is fine to format your cover letter in the more traditional block style; however, I prefer this method of matching the heading on your cover letter with the heading on your resume. It makes your job search documents look like a professional, unified package.
Note that you can make your reference page match with the same header also.
Cover Letter Writing Formula
The example below follows a standard formula for cover letter writing.
Paragraph 1 is the "what" paragraph. It tells the employer what job are you applying to. In this case the job seeker is applying to a job as an administrative assistant.
Paragraph 2 is the "why" paragraph. This paragraph tells why the employer should hire this person. In this example, the job seeker has used paragraph two to describe her technical skills and experience in the field.
Paragraph 3 is the "why else" paragraph. This paragraph includes more reasons why the employer should hire this person. In the example, the why else paragraph is used to describe personal qualities that make this job seeker well-suited for the job.
Paragraph 4 is the contact paragraph. In this example, the job seeker has asked the employer to contact her. If she had the employer's contact information and she hadn't been asked not to contact the employer, she could also use this paragraph to tell the employer that she would be calling to follow up on her application for the job.
One Piece of Friendly Advice Before We Get to the Example...
When you sit down to write your own cover letter, do be sure to write your own, unique letter. Do not copy the sample below word for word.
In fact, you might even want to write out a rough draft of your own cover letter before looking at samples because it can sometimes be very difficult to use your own phrases once you have other people's words in your mind.
A cover letter written in your own words will highlight your most marketable and unique skills and bring out your personality in a way that a copied letter will not. Simply copying a sample letter will not show you in your best possible light.
Copying can also cause problems for you if you plan to post your qualifications online on sites like LinkedIn.
I have found several almost word for word copies of this cover letter that people have posted on their LinkedIn profiles. The problem with this is, if an employer searches a site like LinkedIn and finds multiple copies of basically the same cover letter, he or she will know that the job seeker did not write the letter, and then he or she will question the claims made in the letter.
So please do take the time to write your own letter in your own words using this sample for guidance. It really is the best way to make the best impression on employers.
Cover Letter Sample
You Are Here:
Home

Writing Cover Letters

Cover Letter Sample
Like This Page? Please Share It!